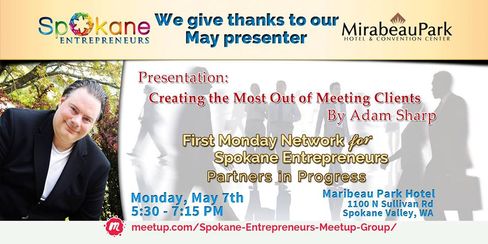 https://www.facebook.com/events/396919980750658/
Please join us in welcoming our May guest presenter, Adam Sharp.
Adam will be speaking on the topic, "Creating the Most Out of Meeting Clients." 

Choosing the perfect setting for a direct meeting is just the first step increating a successful client interaction. The details are as important as the pitch and the product and/or service you provide. This presentation will introduce four important steps and how they will maximize the means in creating a positive first interaction with new clients as well as meeting established clients. These steps will help to maximize meeting productivity, create effective client/service communication and establish positive interactions. 


Invite a colleague or prospective client and get your tickets today! http://bit.ly/SEMay18R

Adam's BIO:

Adam C. Sharp wears many hats including voice over, emcee, writer, director, instructor, performer and musician to name a few. He earned his Bachelor of Arts in English (Creative Writing) and a Master of Arts in Interdisciplinary Studies from CSULB. For over fifteen years, Adam has worked in the arts and business using his techniques of communication and creative advising to help others reach their goals. His presentations have included "Why Can't We Get Along: Communication Skills in the Workplace" and "Creativity in Motion," for business and educational institutions as well as workshops such as "Expression and Behavior: Acting Expression for Employment for Mentally and Physically Challenged Individuals" and "Understanding Body Language." Adam is also a Professional Educator and Creative Advisor.

More information about Spokane Entrepreneurs:

Welcome! We are Spokane Entrepreneurs! Partners in Progress. We are a community of business professionals who lead, inspire, and grow themselves, their companies, and others to new levels of success. We have a networking event each first Monday of the month. We bring in presenters to provide an education element that will help business owners and entrepreneurs in taking their business to the next level. Our Inland Northwest business group is open to the public. 

From 5:30 - 6:00 is open networking. Please mingle and meet other guests. The facilitated meeting begins at 6:00.

Invite a colleague or prospective client and get your tickets today! http://bit.ly/SEMay18R