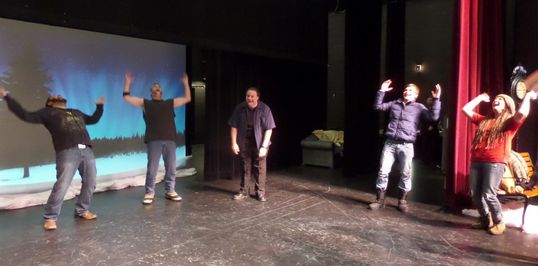 Adam C. Sharp, MA is an experienced teacher and mentor who has worked at educational institutions as well as created workshops and presentations for children, teenagers, adults, physically challenged and from beginners to experienced. He holds a Bachelor of Arts in English and Master of Arts in Interdisciplinary Studies with a concentration on the spiritual and cognitive elements of the creative process. He also teaches a course on the creative process. (Course details and materials available upon request.) Adam has also mentored actors, directors, film directors and designers through various projects and institutions.

Courses he has taught include:
Theatre
(Below: Teaching Directing Students)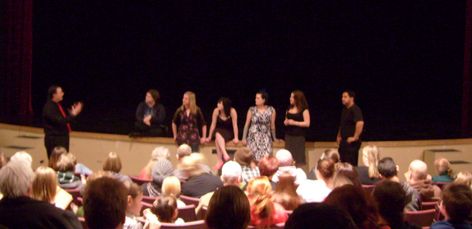 * Acting
* Directing
* Stage Management
* Lighting Design
* Set Design
* Make-up Design
* Choreography
* Sound Design
* Producing
* Theatre Management
* House Management
* Introduction to Theatre
* Modern Theatre
* Playwrighting
* Readers' Theatre
__________________
Film Studies
(Below: Teaching Film Festival Production)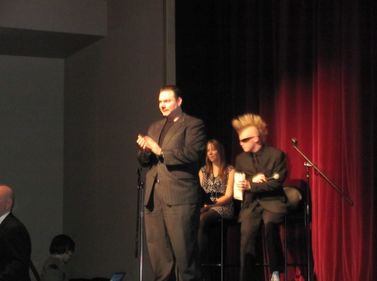 * Directing
* Producing
* Screenwriting
* Editing
* Documentary Production
* Introduction to Film
* Video Production
* Trailer Production
* Film Festival Production
____________________
Speech/Communication Studies
(Below: Speaking at the Hagan Center for Humanities)    (Below: Presenting at the Washington Humanities Conference)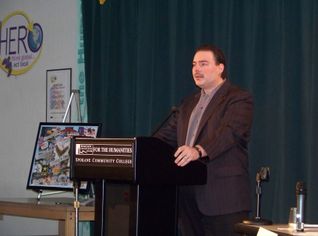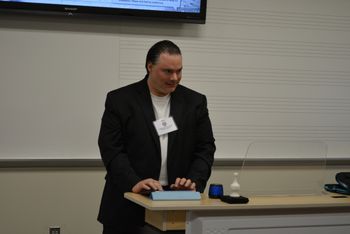 * Introduction to Speech Communication
* Oral Interpretation
* Public Speaking
__________________
English
(Below: Adam teaches poetry reading skills and techniques)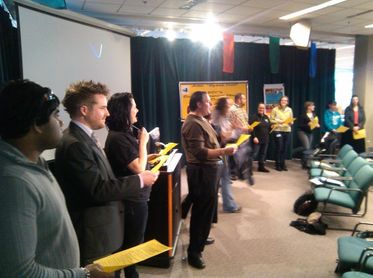 * Humanities (Creative Process Studies)
* Basic English
* Advanced English
* Critical Writing
* Creative Writing
* Poetry
* Fiction
* Modern Theatre
* Theatre as Literature
__________________
Various Training and Educational Workshops
(Below: "World Percussion and Storytelling" workshop with elementary children)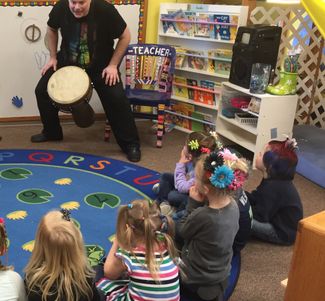 (Taught throughout the United States at conferences, educational institutions, learning centers, theatres  and community events.)

* "Creativity in Motion" at A Contemporary Theatre in Washington State as part of the ACT (American Alliance for Theatre and Education) (Start your creative juices flowing through poetry, writing and movement. Participants will be actively involved in the development of their creative process. They will develop creativity and character skills applicable in the arts and everyday life.)
* "Acting for Film Directors" (For Eastern Washington University film students)
* "Art Through Many Eyes" at Wenatchee Community College for the (Washington Community College Humanities Association) An interactive learning workshop to understand art, emotions, cultural difference and compassion.)
* "Dramatic Expression: Acting Skills for Autistic Students" (Expression and Characterization for Physically Challenged Individuals)
* "Exploring Acting Techniques" (for children through teens)

* "Expression and Behavior: Acting Expression for Employment for Mentally and Physically Challenged Individuals"
* "Take the Stage!" (basic acting techniques for children)
* "Be the Scene: Basic Acting and Stage Types (for adults)
* "Directing for Various Stage Types" (for the ANTAF (Annual Northwest Theatre Arts Festival)
* "Whole Body Acting" (for children to adults)
* "An Introduction to Acting for Children"
* "You Can Act" (acting for middle to high school students)
* "Young Playwrights"(for middle to high school students)
* "Playwrighting (for adults)
* "Oral Presentation"(for adults)
* "Media Production" (from high school to adults)
* "Poetry Alive!" (for elementary children)
* "World Percussion" (for elementary children)
Master of Ceremony, Emcee or Host